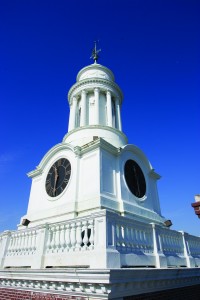 The College of New Jersey recognizes employees may find it necessary to take leave from their jobs for a temporary period to address certain family responsibilities, their own serious health conditions, and personal, or professional obligations.  In order to comply with the Federal and State laws, the Administrative Code and Board Policy, as well as contractual obligations, the College offers the following leave programs to eligible employees. If you are considering a leave of absence from your position, please contact the Office of Human Resources to discuss the options available to you.
Leave Time Available for Classified Employees
Leave Time Available for Unclassified Employees
FMLA/NJFLA (Medical/Maternity/Family Leave to Care for a Sick Family Member)
The College supports leaves of absence under the federal Family Medical Leave Act (FMLA) and New Jersey Family Leave (NJFLA).  FMLA/NJFLA leaves are available to all faculty and staff members who meet the eligibility criteria. Additional information can be found by clicking on the Family Leave link.
Voluntary Furlough 
Employees wishing to participate in the Voluntary Furlough Program may do so by completing the appropriate paperwork and obtaining the approval of their administrative or academic department.  All forms should be forwarded to Human Resources for processing.  Click on the Voluntary Furlough Program link for additional information.
Donated Leave Program 
Employees may donate their earned sick or vacation time to other employees suffering from a catastrophic illness who have exhausted their own leave entitlements.  Employees wishing to donate to this program or who would like to apply for this benefit should contact Human Resources.  Additional information on this program can be obtained through from the Donated Leave Program link.
Energy Savings Program 
In support of its commitment to energy savings, the College administers an energy savings program where employees work certain designated holidays in exchange for other days off.  For additional information on this program, please access this link for 2014 Energy Savings Program.
Personal Leaves of Absence 
The College grants personal leaves of absence to full time employees under certain circumstances.  Additional information can be obtained by accessing the Personal Leave of Absence link or by contacting the Office of Human Resources.
Bereavement Leave 
All Employees who need to take time off from work to attend the funeral of an immediate family member may use their sick leave to be paid for the time off.  Please notify your supervisor if you are in need of bereavement leave.
Workers' Compensation 
The College strives to provide a safe and secure working environment for all employees.  However, if a work related injury or illness occurs, the College shall provide appropriate medical treatment to the injured worker through its workers' compensation program.
The Office of Human Resources is responsible for administering the workers' compensation program. Please report all work related injuries or illnesses to your supervisor and to the Office of Human Resources as soon as possible following the injury or illness. To get additional information on Workers' Compensation click here, or to download the Accidental Injury or Occupational Disease Form, click here.
Temporary Disability Insurance
The College participates in the New Jersey Temporary Disability program available to employees who are unable to work because of illness or injury unrelated to work.  Employees who have exhausted their accrued sick time, and must remain absent from their job, may be entitled to up to 26 weeks of benefits which are a portion of their full salary up to a certain amount.  Additional information on this important program can be accessed by downloading TCNJ Temporary Disability Program Information.
Benefits Coverage during a Leave of Absence 
If you are placed on a leave of absence, you must notify Human Resources prior to or immediately after the date your leave begins. For employees on an unpaid leave, the timing is critical if you want to maintain your benefits coverage. Click here to download additional information on Leave of Absences and Your Benefits.
Returning From a Leave 
When you return from a leave of absence to an appointment eligible for benefits, contact the Office of Human Resources to confirm your benefits coverage. Any change in dependent status that occurred during the leave or layoff must be reported:
Within 60 days of your return if you did not continue your benefits during your leave; or
Within 60 days of the event if you did continue your benefits during your leave.
If you continue your benefits through the College during a leave, and you do not return to the College at the end of your leave, you will be offered COBRA for your health plan, dental plan, prescription drug plan, and Health Care Flexible Spending Account. Under COBRA, you may continue these benefits at your own expense for up to 18 months.