Open Enrollment 2020:  October 1, 2020 – October 31, 2020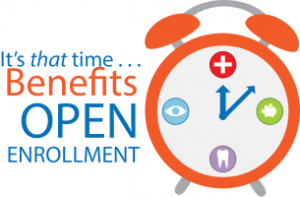 TCNJ employees participate in the State Health Benefits Program (SHBP) through the Division of Pensions and Benefits of the State of New Jersey. Plans available to individual members vary, depending upon an employee's status.
The cost of your plan is based upon your compensation and the level of coverage you elect.  Benefit elections made during open enrollment 2020 go into effect on January 1, 2021. 
For information about benefit plan eligibility or participation, contact the Office of Human Resources via email at hr@tcnj.edu.  To view the NJ Division of Pensions and Benefits website, click here:  Passport to Benefits

Pandemic resources may be found here:  COVID-19 Resources
---
Virtual Benefits Fair 

It is with disappointment that we will not be able to host an in person open enrollment benefits fair this year.  As an alternative, HR has scheduled virtual vendor and carrier meetings on your behalf.  We hope you find these sessions to be informative and helpful:Open Enrollment Virtual Sessions
---
Join Benefits Manager, Maribell Osnayo-Lytle, for Overview Sessions: No Registration is Required

Join Zoom Meeting https://tcnj.zoom.us/j/6076823483 Meeting ID: 607 682 3483
16465588656 – 6076823483# US (New York)
| | | |
| --- | --- | --- |
| Wednesday | October 7 | 2:00 p.m. – 3:00 p.m. |
| Wednesday | October 14 | 10:00 a.m. – 11:00 a.m. |
| Friday | October 16 | 12:00 p.m. – 1:00 p.m. |
| Monday | October 19 | 12:00 p.m. – 1:00 p.m. |
| Wednesday | October 21 | 10:00 a.m. – 11:00 a.m. |
---
Side-by-Side Medical & Prescription Drug Plan Comparisons

Information for Part Time Employees
---
Dental Plan Design Options

---
Health Plan Features and Benefits
NEW!

Say Goodbye to Paper Enrollment Forms!
No action on your part is required if you do not wish to change your medical or dental insurance coverage.
All new health benefit elections must be submitted through Benefitsolver, a new website designed for employees to enroll, make plan changes, add or delete dependents and upload documentation. Employees will have access to Benefitsolver through the myNewJersey portal. 
If you are currently registered with a MyNewJersey or MBOS account, on the NJ Division of Pensions and Benefits website, you should see a new button, "Health Benefits", below the Pensions and Benefits Information Connection and MBOS button. (PLEASE NOTE: MBOS – (Members Benefits Online System) can only be accessed by members of PERS/PFRS.
NEW! Carrier for Tax$ave Flexible Spending Accounts

Horizon will replace WageWorks as the flexible spending accounts administrator, effective January 1, 2021. A new enrollment is required every year in order to participate in a flexible spending account.  This means that current participants must enroll again. 
Tax$ave offers eligible employees the opportunity to increase their available income by reducing their federal tax liability.  Employees who elect to participate in a flexible spending account (FSA) decide how much to contribute for the 2021 calendar year.  Ideally, employees who elect to enroll in a flexible spending account base their contribution amount on predictable expenses. 
To view the Quick Reference Guide: FSA Quick Reference Guide    For more details on Tax$ave, click here: 2021 Flexible Spending Accounts Overview and Enrollment Instructions  The flexible spending account enrollment form is here:  Horizon Flexible Spending Accounts Enrollment Form To complete the form electronically, download the document.

NEW!

Incentive Program for the Tiered Network Plan
The Incentive Program for Horizon OMNIA will be extended for State employees with modifications to past years' incentives. The program will offer a financial incentive of $1,000 to first-time enrollees who remain enrolled for one year for all coverage levels (i.e., Single, Member and Spouse, Parent and Child, or Family coverage). The incentive is paid by gift card no later than the end of the current tax year and is deemed reportable income for tax purposes. The incentive shall be forfeited and returned to the SHBP if the subscriber fails to remain enrolled in the Tiered-Network Plan for at least one plan year.
NEW! Changes to Prescription Drug Insurance Elections
Members must elect to enroll in both medical and prescription insurance.  This means that if you enroll in the medical plan you are required to also enroll in the prescription drug insurance plan and cover the same individuals under both plans.  If a member opts to waive coverage, both medical and prescription coverage must be waived.
Visit the OptumRx website for useful tools on pharmacy networks, prescription drug list, prescription pricing, and home delivery: OptumRx Website
OPTUM Perks
OptumRx members are eligible for prescription discounts through the Optum Perks cards.  Each time you fill a prescription, bring the card to your favorite pharmacy and save up to 80% on more than 50,000 prescription medications.  
Here are a few examples on how to use the Optum Perks:
Drug not covered under insurance plan

You exceeded your coverage limit for the year and now must pay 100%

You have a high co-pay which exceeds the cost of the prescription
Visit the Optum Perks website for a additional details: More Optum Perks Details
NEW!

Livongo
We are excited to announce Livongo for Diabetes, a new benefit being offered at no cost to you. The Livongo for Diabetes Program makes living with diabetes easier by providing you with a connected meter, unlimited strips, and coaching.  For more information:  Livongo Flyer
PennMedicine Employee Assistance Program Resources
PennMedicine Employee Assistance Program (EAP) now offers video counseling using secure HIPAA compliant, interactive audio and video technology. Services may be accessed through mobile device or computer, and service hours have been extended to evenings and weekends. To access services, call (800) 527-0035. PennMedicine Employee Assistance Program Resources
---
Flu Shot Resources for Employees Enrolled in a Health Plan

This year, it is more important than ever to protect yourself and your loved ones from the flu. The NJDPB is offering FREE flu shot clinics for ALL State Health Benefits Program (SHBP) members and their dependents.
Schedule your appointment today!  Before getting your immunization, present both your medical insurance and your prescription drug identification cards to your pharmacist or health care provider.

---
Retirement Plan Resources
Instructional video for MBOS is:  How to Retreive Your MBOS Log In Credentials
A webinar schedule for retirement plan overviews is here:  Webinars Schedule
---