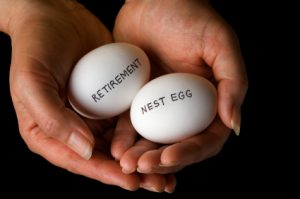 State of New Jersey statutes require all adjuncts and part-time faculty members to participate in the Alternate Benefits Program (ABP). The Alternate Benefit Program is a tax-sheltered, defined contribution retirement program for higher education faculty and certain professional administrative staff.  Members annually contribute 5% of base or contractual salary matched by an 8% employer contribution to a tax-deferred investment account. Six investment carriers are authorized to provide investment options and services in the Alternate Benefit Program.  In order to enroll in ABP and select an ABP vendor, new adjuncts must fill out:
Adjuncts who do not complete this paperwork within the first 30 days of hire will be placed with the ABP default vendor. This vendor rotates from year to year. 
Adjuncts already enrolled in the NJ Public Employees' Retirement System (PERS), must declare their intent to either change to ABP or remain in PERS.  This decision is irrevocable and must be made by completing an Election of Retirement Coverage Form within the first 30 days of the semester.  Adjuncts already in PERS who do not complete this paperwork will be switched to ABP.
The necessary forms can be picked up in the Office of Human Resources. Additional information concerning the ABP can be found on the Human Resources Web site.  Adjuncts with questions concerning pension benefits can stop by the Human Resources Office or contact szakacss@tcnj.edu.
 Listed below are links to the vendors and campus representatives:
Kevin Bohichik                  732- 452-7312   Kevin.Bohichik@axa-advisors.com
Randy Warren                    856-297-4184    rwarren@gittermanwealth.com
Jane Krier                            215-262-6917    jkrier@gittermanwealth.com
Ted Hoffman                      732-232-6679    thoffman@gittermanwealth.com
Eric W. Seiferth                 267 422-6927    eric.seiferth@voyafa.com
David L. Maurer                609-986-2106    davidmaurer@financialguide.com
Stephen J. Burley              609-243-6005     sburley@tiaa.org
Tatiana Novozhilova        201-498-8343    tatiana.novozhilova@tiaa.org
Robert Rooyakkers          732-587-8331    robert.rooyakkers@prudential.com
Michael J. Gavaletz          1-800-892-5558 ext 88855   michael.gavaletz@valic.com