Benefits Open Enrollment Period is Here, Through October 31, 2021!
It's that wonderful time of year again!  Kindly take a moment to register and view new information on the 2022 benefit plan year.  The State of NJ has done an excellent job at compiling all information regarding open enrollment in a one concise and easy to access platform.  Visit mynjbenefitshub and click on the Virtual Benefits Fair image. There are no changes to the current health plans. If you are satisfied with your plan elections (health and/or dental), no action is required.
This is an opportunity to review your current benefit elections to ensure your program of benefits still meets the needs of you and your family.  Changes elected during the open enrollment period will become effective January 1, 2022.  All enrollments/ changes must be completed online through BenefitSolver.  Paper forms are no longer available.
---
TCNJ – Benefits Orientation
Human Resources will be hosting a benefits orientation on Wednesday, October 13, 2021 at 2pm and Friday, October 15, 2021 at 10 am.
HR Benefits Open Enrollment
Wednesday, October 13 · 2:00 – 3:00pm
Google Meet joining info
Video call link: https://meet.google.com/hvr-deaf-kds
Or dial: ‪(US) +1 541-876-6295 PIN: ‪138 155 963#
HR Open Enrollment
Friday, October 15 · 10:00 – 11:00am
Google Meet joining info
Video call link: https://meet.google.com/qde-qctw-taf
Or dial: ‪(US) +1 304-595-0160 PIN: ‪547 766 593#
UPDATE!
  TCNJ – HR Benefits Fair
The virtual benefits fair begins October 13.  The vendors who will provide overview sessions:  TCNJ Benefits Fair Vendors
---
Flexible Spending Accounts
The month of October is open enrollment for the State of New Jersey, Tax$ave program. Tax$ave allows full-time employees to set aside pre-tax dollars to pay for certain medical, dental, and also dependent care expenses through Flexible Spending Accounts (FSA's).
Enrollment in the FSA does NOT carry over from the previous year. Even if you are contributing in 2021, during the month of October, you must complete a new enrollment for 2022.  
For 2022, Horizon Blue Cross Blue Shield of New Jersey continues as the administrator for the FSA's through Horizon MyWay.
There are two voluntary FSA accounts from which to choose.  You may select one, or both.
Medical Expense Plan Benefits FSA– Use this account to pay for co-payments and other qualified medical and dental expenses that you and your eligible dependents incur, which are not paid by your health, prescription and dental insurance.  Many of these expenses can be paid using your FSA-issued debit card.
Dependent Care FSA– Use this account to cover eligible child day care or elder day care expenses.
Please review this essential reference guide to learn more about the benefits of the Horizon MyWay FSA to see if one or both of these accounts are right for you.
If you do not wish to enroll in the FSA's, there is nothing that you need to do.
How To Enroll:
Complete a paper enrollment form and fax it directly to Horizon MyWay at 866-231-0214 or email it to HorizonMyWay.Documents@HelloFurther.com.  If you are choosing the fax option, please make sure that you save the receipt as proof that the fax was sent successfully.
Online Enrollment (preferred)

Login using your SS# and date of birth, and then provide an email address
You will make separate elections for the Unreimbursed Medical FSA and the Dependent Care FSA.
Print out your confirmation, and you'll also receive an email confirmation of your election(s).
Enrollments must be submitted directly to Horizon by October 31, 2021.
Horizon MyWay is also providing Flexible Spending Account  information for plan year 2022.  Tax$ave Open Enrollment for State employees begins October 1 and ends October 31, 2021. Enroll in one of four Horizon MyWay live informational webinars to learn more about the 2022 Tax$ave Flexible Spending Account (FSA).
If you are interested in participating for plan year 2022, you must enroll via the online portal:  HorizonBlue.com/enrollfsa
Current elections for plan year 2021 will not automatically continue for 2022.  An online application is needed to participate in plan year 2022.
---
Coverage Overviews
PPO: NJ Direct/ NJ Direct2019 (for those hired after 7-1-2019).  The CWA union refers to these plans as CWA Unity Direct/ Unity Direct 2019.
HMO:  Horizon HMO
Tiered Network:  OMNIA Health Plan
High Deductible Plans: NJ Direct HD 4000, NJ Direct HD 1500
To determine your payroll deduction cost-share for each of these plans, use this calculator for an estimate.  Ten-month employees should divide the annual amount by 22 pays. Twelve-month employees divide by 26 pays. (This calculator may be more accurate than the estimate provided through the Benefitsolver system.)
OMNIA Tiered Plan Incentive:
The State is once again offering a financial incentive of $1000 to first-time enrollees into the OMNIA plan, who remain enrolled for one year.  The incentive is reportable for income tax purposes, and is paid by gift card no later than the end of the current tax year. The incentive shall be forfeited and returned to the SHBP if you fail to remain in the OMNIA tiered network plan for at least one year, (for example, If you resign your employment in 2022.)
---
Dental Plan Information
There are two types of Dental plans offered.  The most popular choice among employees is the Aetna Dental Expense Plan, the only dental PPO offered in the SHBP.  The Aetna Dental Expense Plan is the only option that offers both in-and-out of network coverage.  The remaining dental plans are all referred to as Dental Plan Organizations (DPO's); these are managed care dental plans, with a limited network of providers, including large groups such as Eastern Dental and University Dental.  Here is a list and contact information for all the dental plans offered.
---
---
Online Enrollment Process
All benefit changes must be submitted through Benefitsolver, a website for State employees to enroll in their benefits, make plan changes, add new dependents, and upload required supporting documentation. You have access to Benefitsolver through the MyNewJersey portal. If you do not already have a myNewJersey account, you will need to create one in order to access Benefitsolver.
If you are enrolled in the Public Employees' Retirement System (PERS) or Police and Fire Retirement System (PFRS), you should already have access to the Member Benefits Online System MBOS through your MyNewJersey portal.  Once you log-in, the Benefitsolver link will be included with your MBOS account as shown below.  If you don't remember your login and password, please use the "forgot your login" and/or "forgot your password" prompts.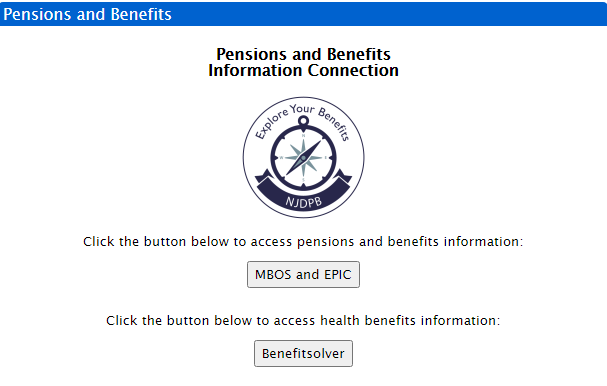 If you are in the Alternate Benefit Program (ABP) retirement plan, and/or DO NOT already have a MyNewJersey account, you will need to create one. You can do this by visiting the Division of Pensions website, and about a quarter of the way down the page you'll see this button:

You will "Register" with Benefitsolver, using your email, social security number, and date of birth. After clicking "Continue" you will be taken to the screen below to create your MyNewJersey account.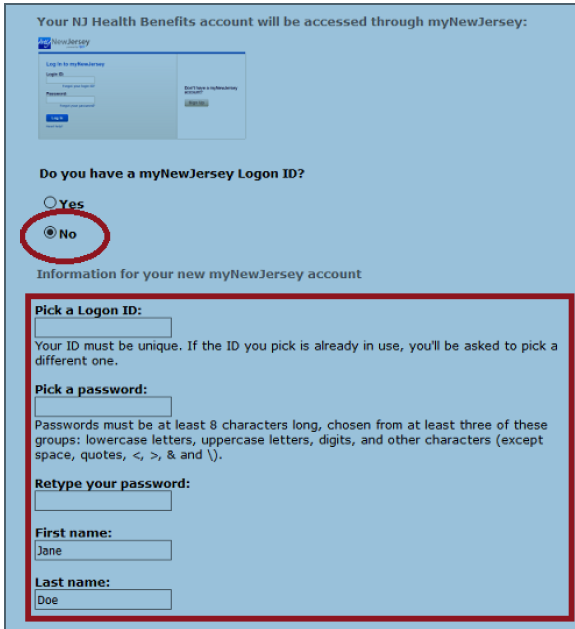 Once you have access to Benefitsolver, you can download the MyChoice mobile app for your iPhone or Android. You can use the mobile app to make changes, view your benefits, and store your ID cards. You will need online access to Benefitsolver first though in order to get the mobile access code.
For additional SHBP open enrollment plan information, you can use this link to the State Health Benefits website.