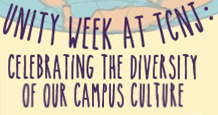 Unity Week is a collaboration between TCNJ's Division of Human Resources and TCNJ Dining Services. We both believe that diversity is a fundamental objective and something to be celebrated. We are excited to celebrate our diverse world through food this week and hope you enjoy what we have prepared.
Place: 1855 Room
Date: 9/26 – 9/30
Time: 11:30 AM – 2 PM
Join us in celebrating the unique flavors of the world! Enjoy five delicious themed menus all week long:
Monday: Persian Cuisine
Tuesday: Soul Food
Wednesday: Mexican Cuisine
Thursday: Hawaiian Cuisine
Friday: African Cuisine
Click here for more information on this event!
Sponsored by TCNJ Dining Services and the Division of Human Resources